Angels - BakuRyou - Lineart; FakirMytho - plan
Posted on 2006.10.27 at 23:20
Current Music: Me and My Lover - Special D
*flops* This took longer than I thought it would...mainly because I spent two whole days watching Princess Tutu [FakirMytho FTW!!]...Drawing non-stop gave me headaches anyway, so not doing that was probably a smart move. PTutu fanart on the way *sparkles* I have to show my love for FakirMytho, seeing as out of the 160 fanfics on aff.net, ff.net and mm.org...only 4 were for this pairing ToT Where is the justice? I would give fanfic writing a go but I have no faith in my ability to write at all...so you'll have to suffer my pictures, which is mildy less painful for everyone.
For OTP Week which shall now be extended to OTP 'Till I Decide To Stop...
Title:
Angels
Rating:
PG for hints of violence [ish] and some nekkidness~!
Type:
Fanart; YuGiOh!; Tendershipping
Status:
Incomplete; lineart
Time taken:
Quite a while, I'd say...
Can also be found:
http://www.deviantart.com/deviation/42077385/
Notes:
The title and picture were inspired by the song Angels by Within Temptation <3 My new obsession *grins* Pretty songs, kinda angsty...but sometimes life just calls for it.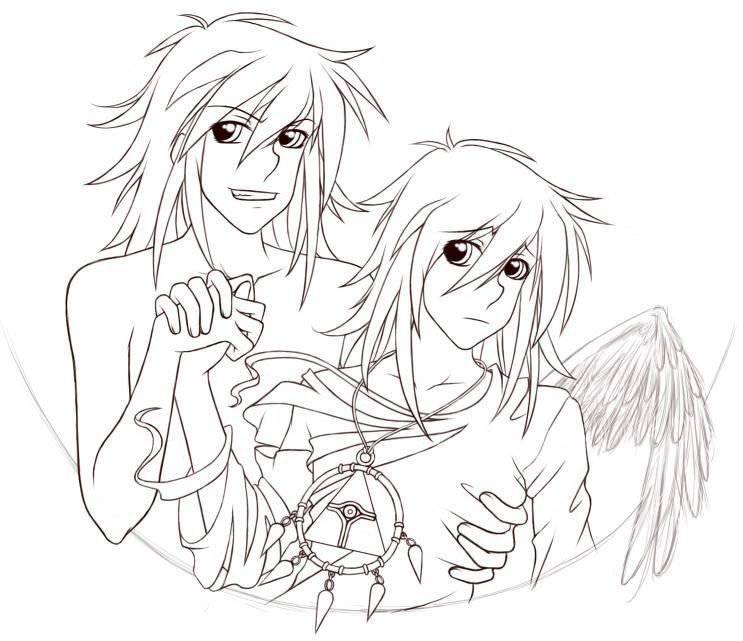 Title:
Untitled so far
Rating:
PG...no idea why...just yeah...
Type:
Fanart; Princess Tutu; FakirMytho
Status:
Incomplete; plan
Time taken:
About 20 minutes so far...
Notes:
It's a special appearance of The Shirt...*melts* I think I love The Shirt just as much as I love Mytho in it; he's just so smexy and leaning out of a window on a breezy day in nothing but? That's just hawt. AND! ANDANDAND! Ryou look-a-like! Ryou being the love of my life, I have to love Mytho! There is not enough FakirMytho love in the world...GAY BALLET DANCERS FTW!